Angiotensin-converting enzyme-2 (ACE2), SARS-CoV-2 and pathophysiology of coronavirus disease 2019 (COVID-19)
Harry van Goor, President of ISANH from University Medical Center, The Netherlands
Are Reactive Sulfur Species The New Reactive Oxygen species?
Kenneth R. Olson, Indiana University School of Medicine in South Bend, USA
Oxidative Stress: Eustress and Distress
Helmut Sies, Heinrich Heine University Düsseldorf, Germany

Mitochondria, Oxidative Stress and Preeclampsia
Enrique Terán, Universidad San Francisco de Quito, Ecuador
Redox & Fasting 2020: Periodic Fasting Improves Blood Oxidative Stress Profile in Humans
Dimitrios Kouretas, University of Thessaly, Greece
Red Blood Cells as a Central Hub in the Interaction among Reactive Species
Miriam Margherita Cortese-Krott, Heinrich Heine University Düsseldorf, Germany
Probiotic Inhibition of Microbiota-mediated Oxidative Stress in the Gastrointestinal Tract
Stan Kubow, School of Human Nutrition, McGill University, Canada
Interaction between Hydrogen Sulphide and Nitric Oxide in the Diabetic Cardiomyopathy
Jin-Song Bian, Southern University of Science and Technology, China
Upregulation and Functional Role of Hydrogen Sulfide Producing Enzymes in Cancer
Csaba Szabo, University of Fribourg, Switzerland
The role of oxidative stress in the initiation and progression of systemic sclerosis
Udo Mulder, University of Groningen, The Netherlands

Iron: Innocent bystander or vicious culprit in COVID-19 pathogenesis?
Marvin Edeas, Institute Cochin -University Paris Descartes, France
Effects of Photobiomodulation on Cancer Cells through the Reactive Species Interactome, Proteases and Bioenergetic Metabolism
Laurent Chatre, University of Caen-Normandie, France
Hemin-induced oxidative death –linked to labile iron
Melanie Merkel, University of Marburg, Germany
Systemic Oxidative Stress, Microbiota and Redox-Targeted Therapeutics in Inflammatory Bowel Disease
Arno Bourgonje, University Medical Center Groningen, The Netherlands
Integrating Signaling Pathways of Ferroptosis and Necroptosis at Mitochondria
Carsten Culmsee, University of Marburg, Germany
An Unexpected Antiferroptotic Activity of a Sterol Metabolite
Jose Friedmann-Angeli, University of Würzburg, Germany
Ferroptosis in the Heart
Fudi Wang, University School of Medicine, China
Regulation of Oxidative Stress and Cell Death by Lysosomal Iron
Jonathan Geiger, University of North Dakota, USA
Ferroptosis and Necroptosis in Stroke
Marietta Zille, University of Luebeck, Germany
Role of necroptosis and iron deposits in traumatic brain injury
Antonia Clarissa Wehn, Ludwig Maximilian University of Munich, Germany

Reductive Stress Causes Pathological Cardiac Remodeling and Diastolic Dysfunction
Rajasekaran Namakkal-Soorappan, the University of Alabama at Birmingham, USA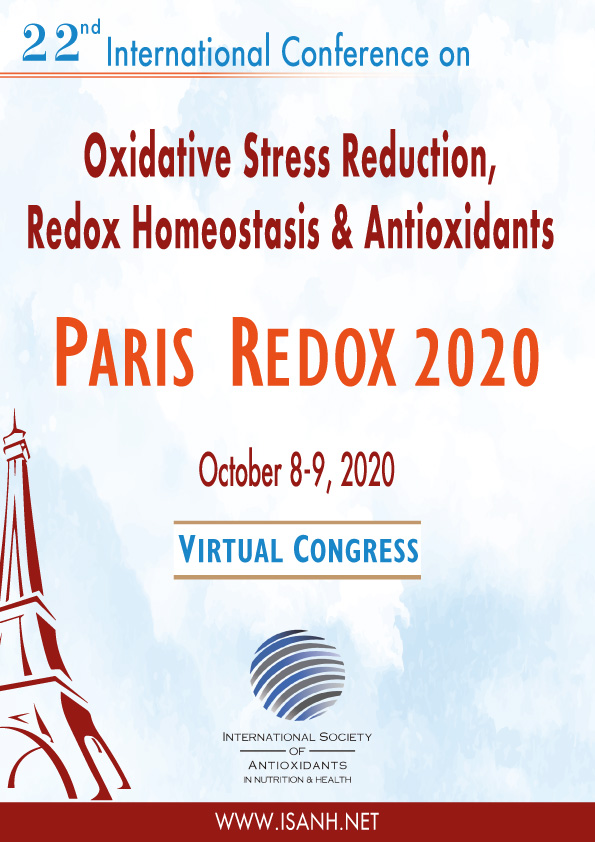 The Scientific Committee of Paris Redox 2020 published a preliminary agenda of 2 days congress.

The congress will be organized Virtual and In-Person. If you wish to present your research as 10-15mins short oral communication or poster presentation, please submit your abstract.