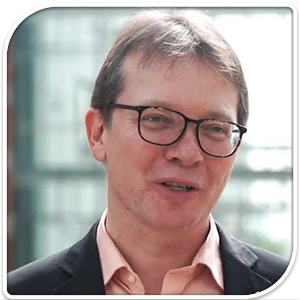 Prof. Lutz Schomburg, Institut für Exper. Endokrinologie, Charité – Universitätsmedizin, Germany will give a talk in Paris Redox 2021 which will be held on October 14-15, 2021.

Prof. Schomburg will present his recent study on Prediction of Survival Odds in COVID-19 by Zinc, Age and Selenoprotein P as Composite Biomarker.
Prof. Schomburg talks about SARS-CoV-2 infections causing the current coronavirus disease (COVID-19) pandemic that is challenging the immune system with ongoing inflammation. Several redox-relevant micronutrients are known to contribute to an adequate immune response, including the essential trace elements zinc (Zn) and selenium (Se). In this study, we tested the hypothesis that COVID-19 patients are characterised by Zn deficiency and that Zn status provides prognostic information. Serum Zn was determined in serum samples (n = 171) collected consecutively from patients surviving COVID-19 (n = 29) or non-survivors (n = 6). Data from the European Prospective Investigation into Cancer and Nutrition (EPIC) study were used for comparison. Zn concentrations in patient samples were low as compared to healthy subjects (mean ± SD; 717.4 ± 246.2 vs 975.7 ± 294.0 μg/L, P < 0.0001). The majority of serum samples collected at different time points from the non-survivors (25/34, i.e., 73.5%) and almost half of the samples collected from the survivors (56/137, i.e., 40.9%) were below the threshold for Zn deficiency, i.e., below 638.7 μg/L (the 2.5th percentile in the EPIC cohort). In view that the Se status biomarker and Se transporter selenoprotein P (SELENOP) is also particularly low in COVID-19, we tested the prevalence of a combined deficit, i.e., serum Zn below 638.7 μg/L and serum SELENOP below 2.56 mg/L. This combined deficit was observed in 0.15% of samples in the EPIC cohort of healthy subjects, in 19.7% of the samples collected from the surviving COVID-19 patients and in 50.0% of samples from the non-survivors. Accordingly, the composite biomarker (SELENOP and Zn with age) proved as a reliable indicator of survival in COVID-19 by receiver operating characteristic (ROC) curve analysis, yielding an area under the curve (AUC) of 94.42%. We conclude that Zn and SELENOP status within the reference ranges indicate high survival odds in COVID-19, and assume that correcting a diagnostically proven deficit in Se and/or Zn by a personalised supplementation may support convalescence.
Read more about the news here: https://doi.org/10.1016/j.redox.2020.101764
Paris Redox 2021 Congress
October 13-15, 2021 - Paris, France & Online
www.isanh.net