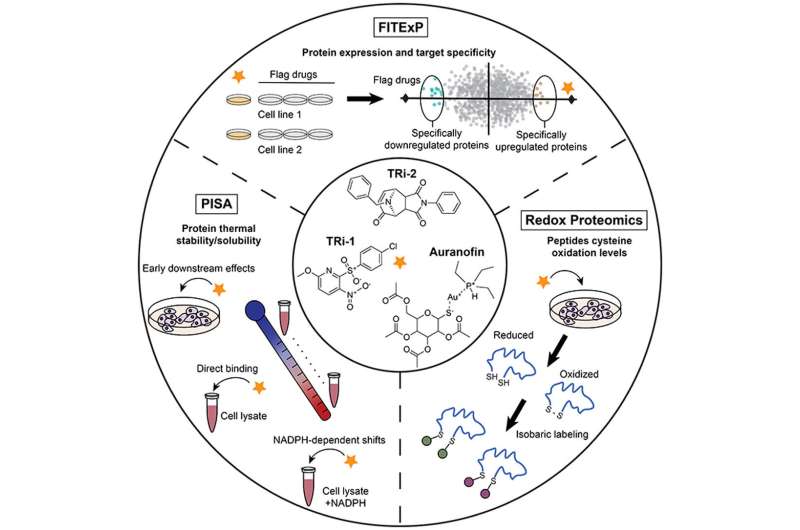 The gold complex auranofin (AF) is classed by the WHO (World Health Organization) as an anti-rheumatic agent and is an active component in the drug Ridaura. Also, AF is currently being assayed in a string of clinical trials as a possible cancer therapy. AF is upregulated in certain forms of cancer and affects cellular growth and survival and inhibits thioredoxin reductase (TrxR), a protein central to the thioredoxin system, which protects cells from oxidative stress in all mammals. However, it also protects cancer cells, thus reducing the efficacy of cancer therapies.
Arnér et. al says: "There's a great deal of interest in the ability to inhibit the thioredoxin system in the treatment of cancer, but there's a risk that healthy cells will also be damaged and killed" and "Our aim is for TrxR inhibitors to be as specific as possible."
The effects of AF in mouse cancer cells (lung adenocarcinoma and melanoma) compared with other TrxR-inhibiting molecules called both the TRi-1 and TRi-2 molecules (thioredoxin reductase inhibitors 1 and 2) developed by Elias Arnér's research group. The proteomic methods of analyzing the entire set of proteins in cells suggests that the TRi compounds are more specific in their effect than AF that causes very high levels of oxidative stress and other effects unrelated to the inhibition of TrxR. Also,TRi-1 seems to be the most specific TrxR inhibitor described to date.
Zubarev et. al says: "Our results can serve as an important blueprint for further studies of AF's mechanism of action and side effects," and "Having now compared AF with the more specific molecules TRi-1 and TRi-2, we hope that our findings will contribute to the further development of TrxR inhibitors as anticancer drugs."
Further discussions on cancer and redox will take place during the 24th Congress on Oxydative Stress Reduction, Redox Homeostasis & Antioxidants held on June 22-24, 2022 in Paris.
24th Annual ISANH Meeting
Paris Redox 2022 Congress
June 22-24, 2022 - Paris, France
www.isanh.net